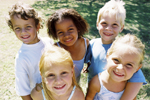 Coast-Tel FCU is firmly committed to providing financial opportunities and education to the youth of our community. In 1994, we began a scholarship program that has awarded $68,750 in scholarship assistance to Coast-Tel members.
In 1996 we began our first on campus high school branch with weekly visits and we now visit three elementary schools on a monthly basis. We continue to be a leader in our community, providing free financial education programs at local K-12 schools, high schools and community colleges.
Field Trips to Coast-Tel are welcomed...The 1st grade class at Sacred Heart School in Salinas visited us and had an amazing time.
At Coast-Tel, we have a variety of programs designed to provide financial education, saving and responsible use of credit for members of all ages. Check us out and see all that we have to offer!
Creating Community Since 1959!
2014 Coast-Tel Federal Credit Union. All rights reserved.